Akagi Ritsuko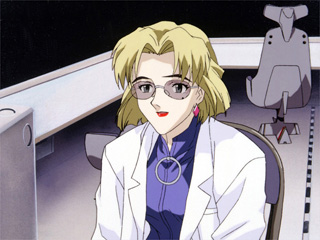 Name : Akagi Ritsuko
Age : 30 years old
Gender : Female
Blood Type : B
Position : Head Technician of NERV
First Appearance : Episode #1 (Angel Attack)
Voice Actor : Yamaguchi Yuriko

Akagi Ritsuko, 30 years old. She belongs to the first section of the Techology Bureau of the Technology Development Department of NERV Headquarter. She has known Katsuragi Misato since both of them were students and she is also a good friend of Kaji Ryouji. She is a beautiful lady who is mature, cool and intellectual. She likes to collect cat's toy and she also feeds a cat in her grandmother's place. As a scientist she is very capable. She has improved the Super Computer Magi which is invented by her mother Akagi Naoko. In NERV, she is in charge of the development of Evangelion and she is also the direct person in charge of Evangelion.